&nbsp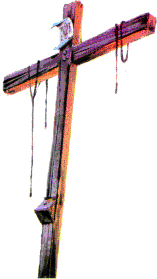 T R Rachels

My wife Judy and I visited the Tower of London. We walked through its chambers, looked at the grounds, and relived some of its stories of blood and pain. Underneath the Tower, buried deep in vaults secured by guards and electronic equipment, are the crown jewels of the United Kingdom.
A woman asked her husband: "How much do you think they are worth?"
A warden answered: "You could estimate the value of all the gold, I suppose, and the value of all the diamonds, sapphires, rubies, emeralds, and pearls. But how do you value the antiquity and the royal ownership, the fact that these crowns have been worn by kings and queens of England? How much are the crown jewels worth? They are priceless, beyond price."
You can't put monetary value on the invaluable. The reason: They cannot be replaced! And there is nothing to compare with them!
There is another Tower - a monument to a King, a place of blood and pain. Nothing on earth is like it. It is, quite simply, beyond price! It is the cross on which Jesus died. Our Lord freely gave up His life at Calvary and possessed for each of us riches which cannot be measured!
What happened on that Tower and what difference does it make? Firstly, a transfer of ownership made heirs out of paupers. You and I, who had zero hope to get off this planet alive, were given title deed at Calvary that redeems all claims against our inheritance and promises us eternal life!
Secondly, God deposited grace and power there to be drawn upon by whosoever. The Cross stands as the centre of God's investment on earth. He endows Himself to all who will accept His sacrifice.
Thirdly, the Cross forever settled the question of who's in charge. The prince of darkness is out and the Prince of Peace is in! Satan may try scare tactics on God's people, but he is a defeated enemy! The God of love enfolds His children to His own bosom in tender care.
And what difference does that make? It is a life-and-death matter!
LIFE, if you accept Jesus Christ as your Saviour. Death, if you do not! "He who has the Son has life; he who does not have the Son of God does not have life" (1 John 5:12, NIV).
QUITE SIMPLY, NOTHING CAN COMPARE WITH THE CROSS OF JESUS CHRIST!